Asian Prawn Kebabs With Quinoa Risotto
---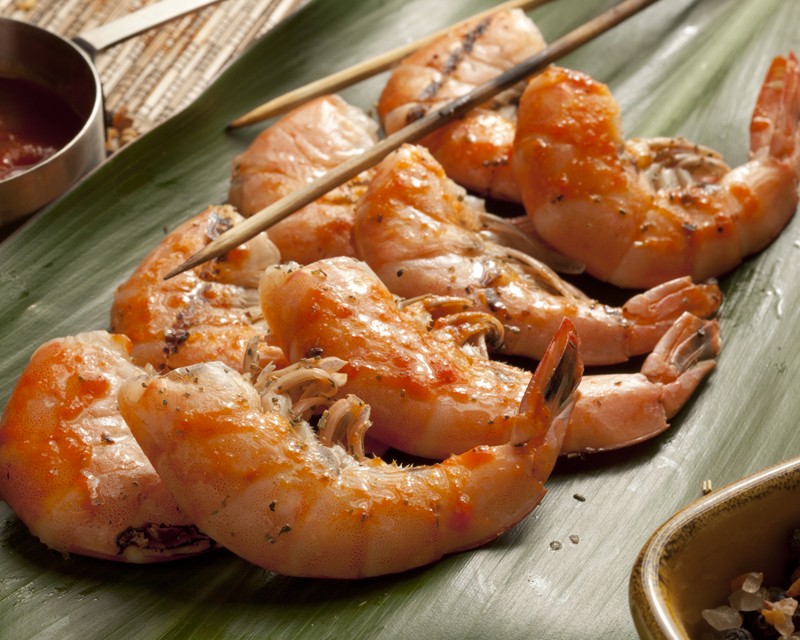 ---
INGREDIENTS
Kebabs:
24 large prawns
2 cups of pineapple, cut into wedges
2 tbsp. mirin
1 tsp. curry powder
½ tsp. cardamom
1 tbsp. finely-grated fresh ginger
2 tbsp. vegetable oil
¼ tsp. salt
¼ tsp. white pepper
4 green onions, cut white part of stalks 1-inch long
Risotto:
3 cups chicken broth
1 tbsp. olive oil
1 tbsp. butter
⅓ cup white onion, finely chopped
1½ cups quinoa (washed and drained in cold water)
⅓ cup Gewürztraminer wine
½ tsp. cinnamon
½ cup golden raisins
½ cup roasted peanuts, chopped
Salt and pepper, to taste
INSTRUCTIONS
Peel and devein prawns.  Place the mirin, curry powder, cardamom, ginger, oil, salt and pepper into a bowl.  Add prawns and pineapple wedges, toss to coat.  Thread 2 shrimp, 2 pieces of green onion and 2 pieces of pineapple each on wooden or metal skewers.  Refrigerate.  Meanwhile make the risotto, prepare grill for kebabs.
The preparation of quinoa risotto is very similar to a classic risotto which uses Arborio rice.
In medium-size saucepan, heat chicken broth to keep warm.  In large, wide pan, add olive oil and butter to melt.  Add onions and sauté to translucent, stirring to not burn. Add the quinoa and allow to brown for about a minute.  Add wine, allowing to evaporate.  Start adding heated broth one ladle at a time. Keep adding remaining stock to cover quinoa, adding the cinnamon and the raisins.  Cook until quinoa is done.   Salt and pepper to taste.
Grill kebabs, turning once, until prawns are cooked through.
To serve, place risotto on a large serving platter.  Sprinkle with the peanuts.  Place skewer in a spoke pattern over the risotto.  Can add cilantro for green garnish.  Serve immediately.