Bread Pudding With Mushroom, Bacon And Caramelized Onions
---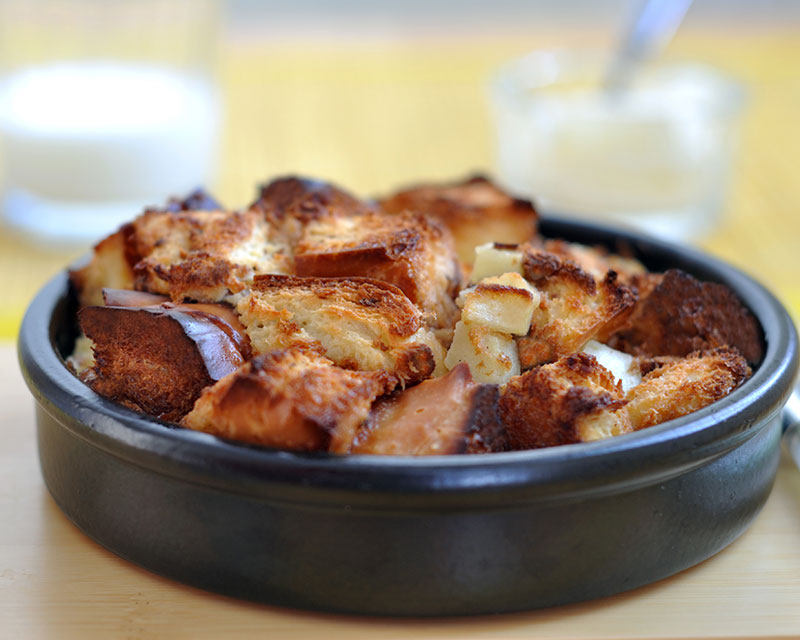 ---
INGREDIENTS
1 lb. day-old baguette, cut into ¾-inch cubes
8 eggs (4 whole eggs, 4 egg yolks only)
2 porcini mushroom bouillon cubes
1 cup rich veal stock
2 cups heavy cream
1½ cups half and half
1 tsp. minced parsley
½ tsp. minced thyme
A pinch of grated nutmeg
Salt and white pepper
2 cups grated Comté cheese
½ cup crumbled cooked bacon
¾ cup sliced caramelized red onions
INSTRUCTIONS
Preheat oven to 350 degrees
In large bowl, beat eggs.  Set aside.  In a medium-size saucepan, add the bouillon cubes to the veal stock and heat over low heat to soften; add the cream, half and half, parsley, thyme and nutmeg.  Stir to mix.  Add salt and pepper, to taste.  Set aside to cool.
Once cool, fold in the diced bread, to absorb the liquid.  Fold in the cheese, bacon and caramelized onions. Let this set for about an hour to meld all the flavors together, stirring every so often to coat all the bread.  Add the eggs.
Butter a 9-x-13-inch baking dish and transfer the bread mixture into the dish.  Bake uncovered on top oven rack for 30 – 40 minutes.  Let rest 30 minutes before serving.
Optional***
Sauté 1½ cups of wild mushrooms in olive oil, garlic, splash of Lazy Day Pinot Noir and serve with the bread pudding.
Serves 6