Chicken Thighs with Beans & Tomatoes
---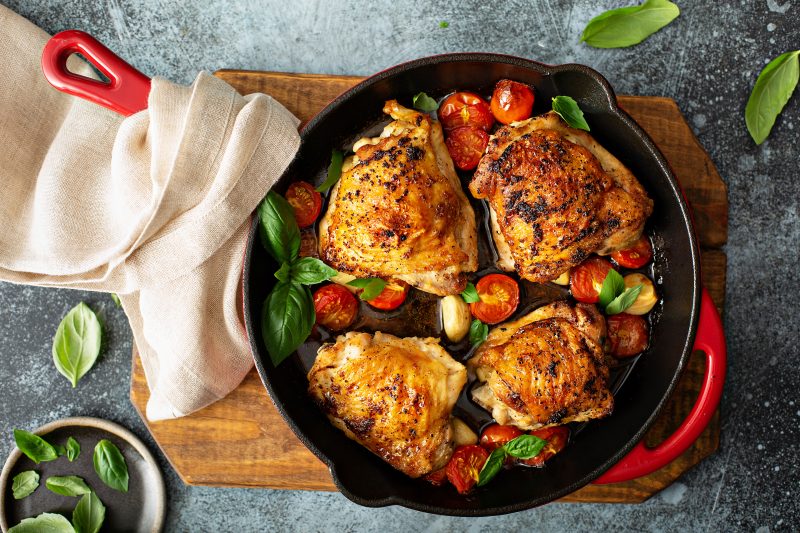 ---
Chicken Thighs with Beans & Tomatoes
Serves 2 (2 thighs each)
Ingredients:
2 pounds, bone-in, skin-on chicken thighs or breasts (about 4)
Kosher salt and black pepper
1 tablespoon canola oil
4 oz. pancetta or bacon, chopped coarsely
1 shallot, peeled and cut into thin wedges
1 lb. ripe tomatoes peeled, seeded and diced
2 garlic cloves minced
1 fresh sprig each, thyme and rosemary
3 cups chicken broth
1 (15-ounce) can small white beans (such as Great Northern, navy or cannellini) or chickpeas, drained and rinsed
Flaky sea salt, freshly ground black pepper
Pat the chicken dry and season with salt and pepper.  Heat oil in a large cast iron fry pan over medium heat and add chicken, skin-side down.
Using kitchen tongs or a spatula, press the chicken evenly into the pan and cook each side to a deep golden-brown color.  Do not crowd cast iron fry pan.
Pour out most of the rendered chicken fat, add the pancetta, shallots and cook for 3 minutes.  Add the tomatoes, garlic and thyme.  Finish the dish by adding the chicken broth, rosemary and beans. Reduce broth.
Plate into wide bowls, with beans and tomatoes on the bottom and chicken thigh on top.  Garnish with fresh chopped parsley.