Chinese Minced Chicken In Lettuce Wrap
---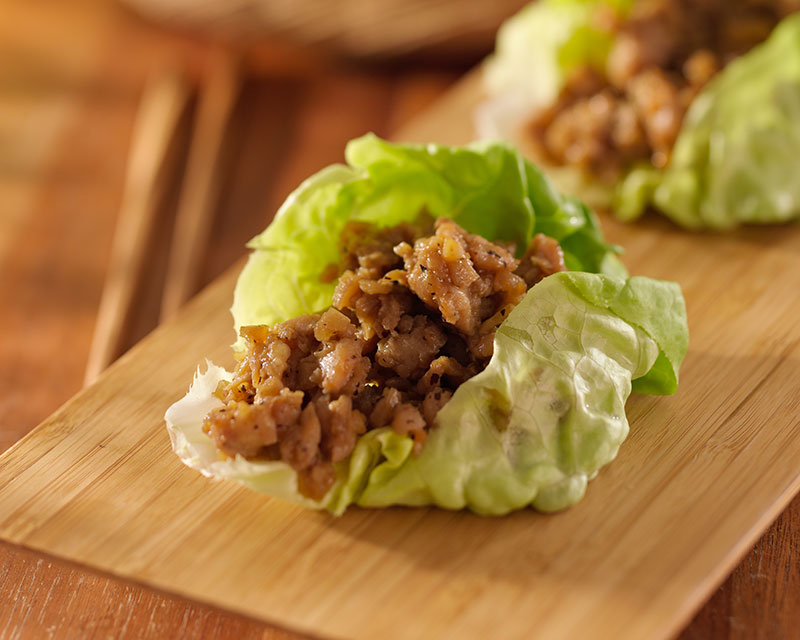 ---
8 oz. boneless chicken breast, minced
1 egg white
1 tsp. cornstarch
1/8 tsp. salt
Place chicken in bowl.  In separate bowl, beat egg white until foamy.  Add the egg white, cornstarch and salt to chicken.  Toss.
Sauce:
2 Tbsp. soy sauce
1 Tbsp. rice wine vinegar
1 Tbsp. mirin
1 Tbsp. sugar
½ tsp. ground white pepper
1 tsp. cornstarch
Prepare sauce:  Whisk soy sauce, vinegar, mirin, sugar and white pepper in small bowl.  Dissolve cornstarch in 1 Tbsp. water in another small bowl.  Set bowls aside.
Vegetable oil
1 cup finely diced celery
¾ cup minced scallions, white and green part
½ cup diced carrot
½ tsp. minced fresh ginger
1 tsp. dark sesame oil
2 tsp. hoisin sauce or plum sauce
8 whole iceberg or Bibb lettuce leaves
2 Tbsp. lightly toasted walnuts, finely chopped**(optional)
Handful of fresh cilantro
Over high heat, add vegetable oil to a large sauté pan or large wok, add chicken.  With wooden spoon gently break up and cook until chicken turns white.  Using a slotted spoon, remove chicken to colander to drain, or on a paper towel.   Discard oil if it has any burnt pieces of chicken.   Over high heat again, add oil if necessary, add the celery, scallions, carrot and ginger and stir-fry until vegetables are just tender-crisp.  Add chicken to pan, stir to mix.  Add the cornstarch mixture and stir-fry until sauce has thickened.  Stir in walnuts and the sesame oil.  Transfer to a serving bowl.
To serve, spread hoisin or plum sauce on bottom of lettuce leaf, add chicken mixture, lay a sprig of cilantro on top of chicken mixture and serve immediately, adding more hoisin or plum sauce if so desire.