Grilled Shrimp With Fresh Tomato And Garlic
---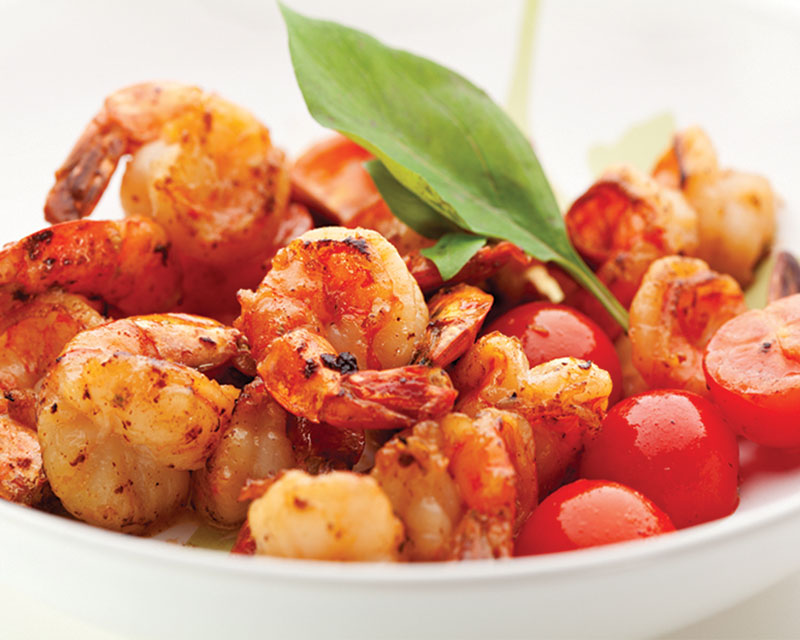 ---
INGREDIENTS
8 large prawns, with shells
3 tbsp. olive oil
Salt and pepper
2 garlic cloves, chopped
1 tbsp. fresh basil, chopped
1 tbsp. fresh oregano, chopped
½ cup dry rosé wine
6 Italian plum tomatoes, peeled, seeded and diced
½ cup cream*optional
8 Boston lettuce or radicchio leaves
Extra virgin olive oil
INSTRUCTIONS
Prepare grill.  Wash and dry shrimp, butterfly by slicing open along the inside curve, leaving shells on.  Brush shrimp with oil, season with salt and pepper.  Place on grill, split side down for 3-4 minutes.
While shrimp are cooking, heat 2 tbsp. olive oil in medium-size skillet.  Add garlic and cook lightly, do not brown, add herbs and wine.  Bring to a boil and cook for approximately 2 minutes.  Stir in tomatoes; add cream and cook an additional 2–3 minutes.  Adjust seasonings.  Remove from heat and arrange prawns on lettuce leaves, top with sauce and serve immediately.  Drizzle a little olive oil on top.
Soak up the sauce with a slice of grilled olive oil garlic crusty bread while you savor a glass of LCV Rosé wine.  Doesn't get any better than that.