Herb Crusted Rack of Lamb with Dried Cherry Sauce
---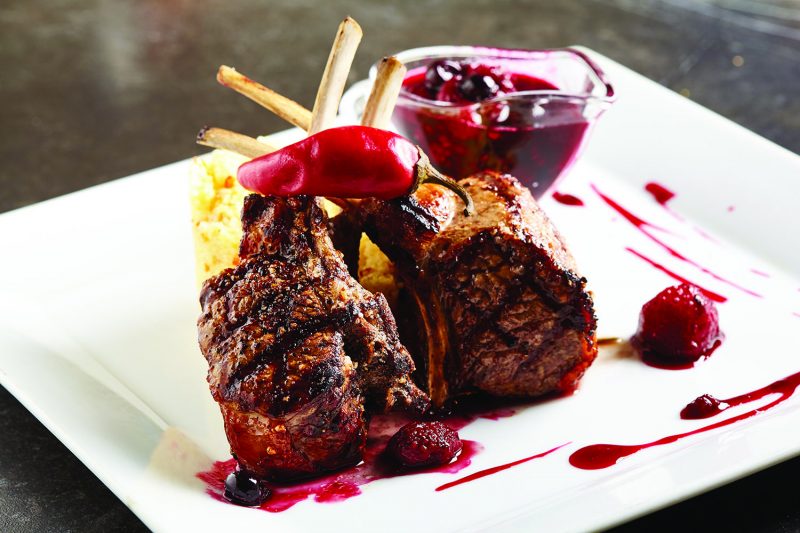 ---
INGREDIENTS
2 racks of lamb, chine bones removed, Frenched and meat trimmed of fat
Kosher salt and freshly ground pepper
2 cloves garlic, minced
¼ cup chopped fresh flat leaf parlsey
2 tbsp. chopped fresh thyme
1 tbsp. chopped fresh rosemary
1 tsp. culinary lavender
3 tbsp. Dijon mustard
¼ cup olive oil
Dried Cherry Sauce:
2 tbsp. honey
3 tbsp. Balsamic vinegar
2/3 cup Pinot Noir
1 cup veal demi-glace
¾ cup veal stock or chicken broth
¼ cup dried cherries, coarsely chopped
INSTRUCTIONS
Preheat oven to 475 degrees. Season lamb with salt and pepper. Combine garlic, parsley, thyme, rosemary, lavender, Dijon mustard, olive oil. Stir to mix well. Heat a large skillet over high heat. Put lamb meat side down and hold with tongs to sear to a nice brown crust. Turn and do this on all sides to sear.  Remove meat from skillet and brush the meaty side of the rack with prepared garlic-herb paste.  Transfer racks to a roasting pan and cover rib bones with strips of foil so they do not burn, Roast until medium rare — about 25 minutes — until internal temperature reaches 124 degrees. Let racks rest for at least 5 minutes before carving.
Meanwhile make the sauce:
Heat a medium skillet; add honey and cook over moderate heat until caramelized, being careful not to burn. Add the balsamic vinegar and cook for only 10 seconds, then add the wine and cook for about 5 more minutes to reduce. Stir in demi-glace and stock. Simmer until reduced to 1 cup, about 15 minutes.  Add the dried cherries.  Correct seasoning.  (Sauce may be made up to two days ahead.)
Carve rack of lamb and arrange on serving plates. Serve immediately with Dried Cherry Sauce.
Serves 6