Mussels with Grilled Country Bread
---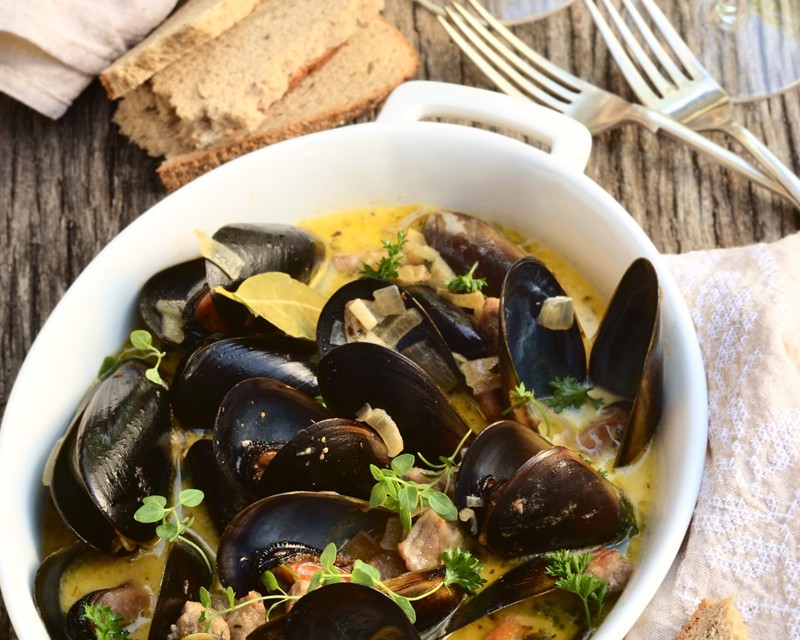 ---
INGREDIENTS
1 loaf crusty country bread, preferably whole grain
2 pounds mussels, scrubbed and debearded
1 tsp. chopped thyme leaves
2 medium shallots, sliced
6 tbsp. unsalted butter
½ cup dry white wine
½ cup unsalted chicken broth
2 ounces Gruyere cheese, grated
3 slices cooked bacon, crumbled
Chopped flat-leaf parsley
Sprig of thyme
INSTRUCTIONS
Cut bread into thick slices, place on a cookie sheet and toast on one side in oven, being careful not to burn.
Place a cast-iron skillet over high heat. When it begins to smoke, add the mussels and thyme. Cover and cook, shaking the pan occasionally, until all the mussels open, about 4 minutes. Transfer the mussels to a shallow bowl and cover with foil to keep warm.
Simmer the mussel juices in the skillet for 2 minutes to concentrate, then whisk in 6 tbsp butter and white wine to make a rich sauce.
Meanwhile, turn bread slices over to toast both sides, on toasted side, add Gruyere cheese to melt.
Pour mussel butter wine sauce over mussels that have been kept warm, garnish with crumbled bacon, black pepper, parsley and thyme sprig.
Serve with country bread to soak up the juices. Enjoy with a delicious glass of LCV Gewürztraminer!