Roast Chicken Thighs with Honey Bacon Pears and Gewürztraminer
---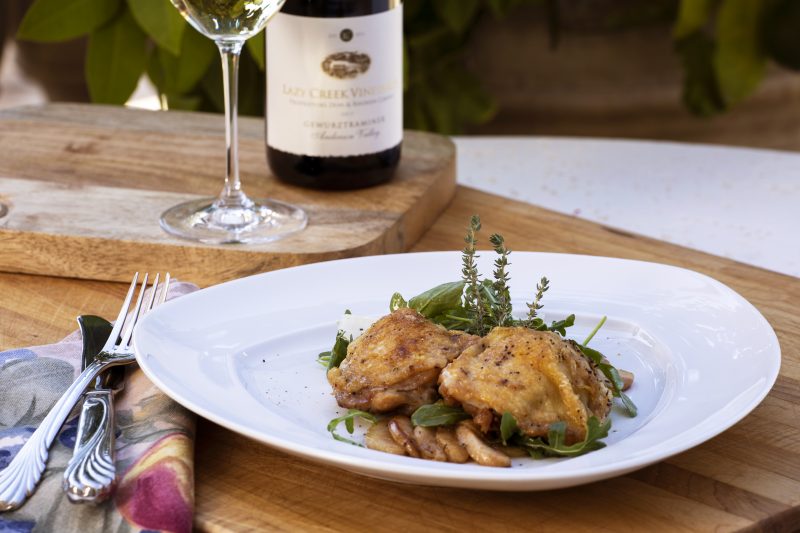 ---
6 servings
12 bone-in, skin-on chicken thighs, trimmed of fat
1 medium white onion, thinly sliced lengthwise
1 fennel bulb, core removed, thinly sliced lengthwise
2 whole garlic cloves, smashed
1 tbsp. olive oil
8 slices pancetta, or sugar-cured bacon (do not use hickory smoked), diced
Salt and pepper
1 cup Gewürztraminer
1 tbsp. fresh thyme, finely chopped
½ cup honey
2 Bartlett pears, cut into chunks, skin on
Preheat oven to 400°F.
Season chicken thighs with salt and pepper.  Heat oil in a Dutch oven over medium high heat.  Add chicken and sear chicken until golden brown, being careful not to crowd pan.  Remove chicken from pan. Set aside.  Pour off fat until only 2 tbsp. of fat is left.  In same pan, add onions, fennel and bacon, adding garlic last, being sure not to burn.  Salt and pepper.  Sauté for about 3 minutes, add the wine and cook for another 2 minutes.  Place the chicken thighs on top of the onion-fennel mixture.  Place in oven and roast for 20-30 minutes, or until done.  Meanwhile in a separate bowl, toss pears, honey, thyme and drizzle with olive oil.  Set aside.  Ten minutes before chicken is done, remove from oven and pour the pear mixture with juices over the top.  Bake last 10 minutes.
Remove from oven and serve with baby Arugula tossed with olive oil and lemon, salt and pepper and slices of pecorino cheese on top.
Serve with a glass of LCV Gewürztraminer.