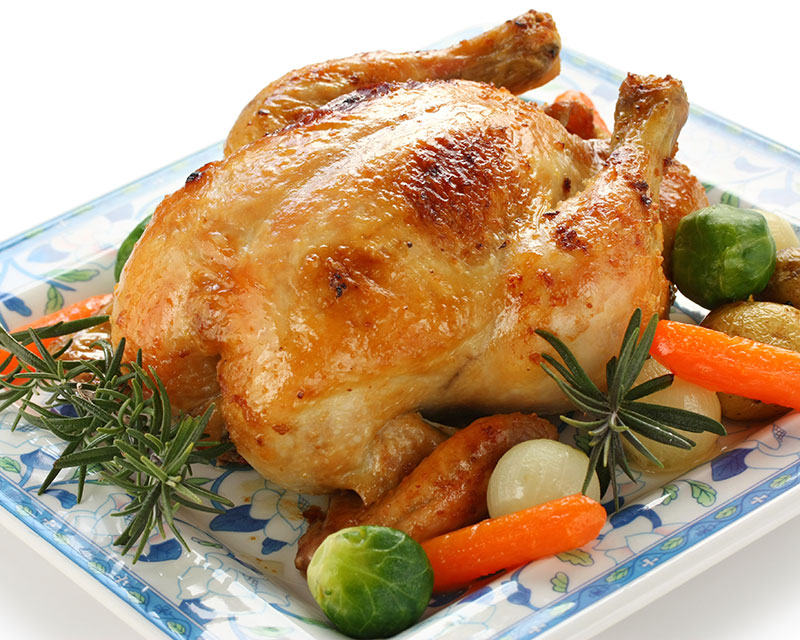 ---
INGREDIENTS
1 3-to-3½-lb. whole organic chicken
2 tsp. salt
¼ tsp. fresh ground pepper
1 tsp. brown sugar
½ tsp. paprika
1 tsp. each fresh chopped thyme, rosemary, tarragon and sage
4 garlic cloves, crushed and chopped fine
1 stick unsalted butter, softened to room temperature
1 orange, cut into chunks
1 lemon, cut into chunks
2 bay leaves, crumbled
1 tbsp. olive oil
INSTRUCTIONS
Make a mirepoix:
1 medium white onion, 2 celery sticks, 1 medium-size carrot…coarsely chopped, to add to bottom of roasting pan
In small bowl, mix salt, pepper, sugar, paprika, fresh herbs and the garlic.  Making sure excess fat is removed from chicken, rinse and completely dry, inside and out.  At least 24 hours or more before cooking, rub the chicken with the mixture.  With your finger, gently lift the skin from the breast of the chicken and rub the butter on the breast meat and around the legs and thighs, being careful not to tear skin.  Wrap loosely with plastic wrap and refrigerate until cooking.
Preheat oven to 400 degrees.
Remove chicken from refrigerator, add a little salt to the inside cavity of the chicken, then stuff the cavity with the orange and lemon chunks and crumbled bay leaves. Truss the chicken legs with kitchen twine.  Place a shallow, oven-proof roasting pan over medium heat on top of stove.  When pan is hot add oil.  Place chicken, breast side down, and brown it on all sides, discard any fat.  Transfer the pan to the oven, adding the mirepoix around chicken.  Continue roasting chicken until internal temperature is 165 degrees.  Remove from oven and place chicken on a serving platter.  Cover loosely with foil, not tight, for 15 minutes. Discard lemon and oranges from chicken cavity. Meanwhile, if so desired, make a wine sauce by adding chicken broth, wine, parsley, salt and pepper to a blender, adding the mirepoix, after removal of any fat rendered from the roasting pan.  Puree and return to the stove and bring to a boil over high heat to reduce.  Slice chicken and serve immediately with sauce.