Roasted Leg of Lamb with Potato, Eggplant and Tomato Tian
---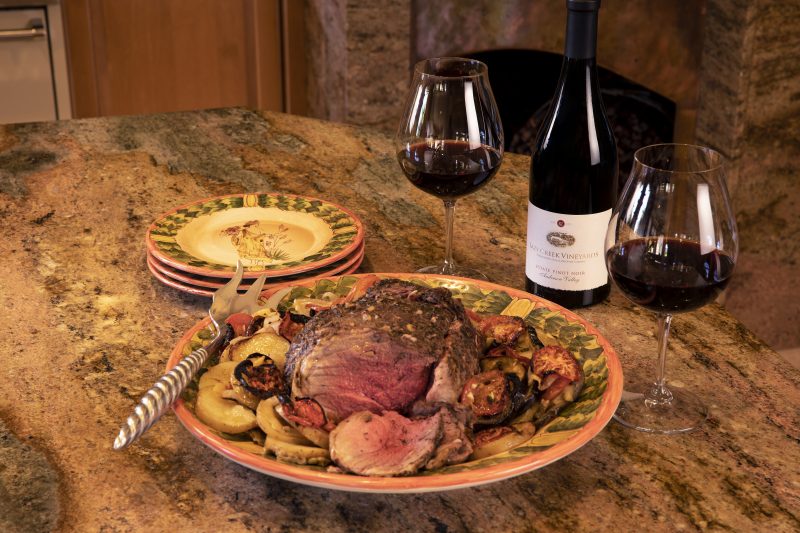 ---
INGREDIENTS
Serves 8
Tian:
1 ½ lb. tomatoes, cut crosswise into ¼ inch-thick slices
1 lb. white onions, thinly sliced
1 lb. eggplant, cut crosswise into ¼ inch-thick slices
4 large garlic cloves, chopped
2 tsp. fresh thyme, chopped
2 tsp. fresh oregano, chopped
2 lbs. boiling potatoes, 1/8-inch-thick slices
1 tsp. Kosher salt
Fresh ground black pepper
Lamb:
6 -7lb. leg of lamb (aitchbone removed)
3 large garlic cloves, thinly sliced
Fresh rosemary, chopped
Fresh thyme, chopped
1 tsp. herbs de Provence, crumbled
¼ cup lemon juice
Olive oil
Salt and pepper
PREPARATION
Prepare tian:
Preheat oven to 425°F.  Toss half of the tomato slices with onions, eggplant, garlic thyme, oregano, potatoes, salt and pepper in a large bowl.  Transfer to an oiled, shallow 3-quart casserole dish, spreading evenly.  Arrange remaining tomatoes slices on top.  Roast uncovered in oven for 30 minutes.
Prepare lamb:
Trim lamb if necessary, leaving ¼ inch layer of fat.  Cut small slits over lamb with a knife and put a slice of garlic into each slit.  Rub lamb with lemon juice, olive oil, rosemary, thyme and herbs de Provence, salt and pepper.
After tian has been roasting for 30 minutes, put leg of lamb on top of vegetables and continue to roast for 30 minutes, lowering oven temperature to 350°F. Continue to roast, basting meat with cooking juices, until lamb registers 125°F, about 1 ½ hours.  Remove lamb to a cutting board, cover tian with foil, and let meat stand for 15 minutes before carving.  Spoon off any excess fat from tian.  Serve together with a bottle of LCV Estate Pinot Noir, family and friends!