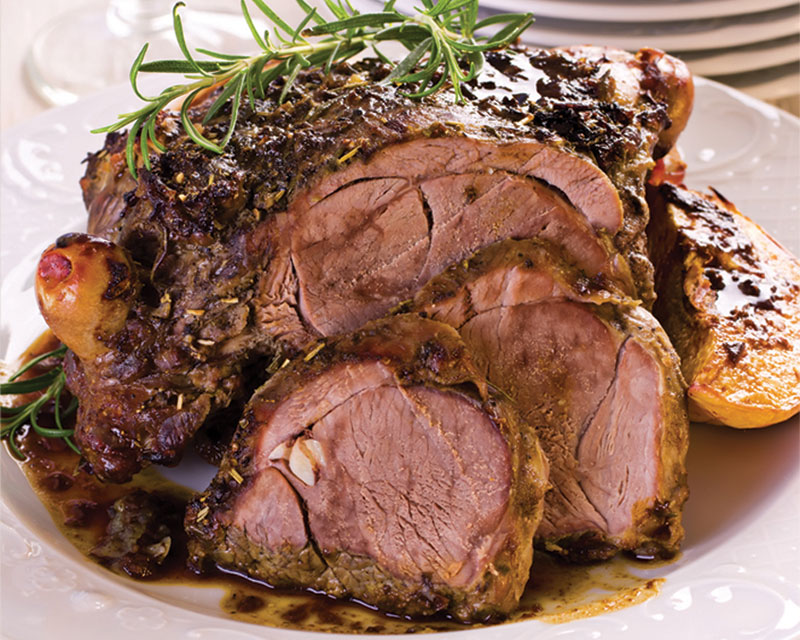 ---
INGREDIENTS
¼ cup chopped parsley
2 tbsp. minced black olives, nicoise if available
5 oz. mild soft goat cheese, room temperature
2 tbsp.fresh chopped basil
1 tsp. fresh chopped mint
salt and freshly ground pepper
2  8-chop racks of lamb, chine bones removed
2 cloves minced garlic
2 tbsp. minced rosemary
1 tbsp. old balsamic vinegar
1 tsp. black berry jam
1 tbsp. orange juice
1 bay leaf
1 cup lamb or chicken broth
1 cup french bread crumbs
INSTRUCTIONS
Chop parsley. Mince the olives.  In mixing bowl, beat cheese until smooth.  Add parsley, olives and olive oil.  Add basil and mint and stir together.  Season with salt and pepper and let stand at room temperature to meld flavors together.
Season lamb racks with garlic, rosemary; salt and pepper for at least 1 hour before placing in preheated 400 degree oven.  Place lamb racks in roasting pan and sear on both sides, appproximately 20 minutes.  Remove and set lamb on platter, cover to keep warm.
Remove fat from roasting pan. Place on top of stove, add balsamic vinegar, orange juice and blackberry jam, stirring with a wooden spoon to deglaze, add stock and reduce by half, approximately 5 minutes.
Cut racks into chops; spread ¼ inch of the cheese mixture on top of each chop.  Heat broiler on high.  Coat cheese with bread crumbs.  Set chops on a rack in oven, about 5 inches away from preheated broiler and cook until crumbs are golden brown.  Serve immediately with sauce. Garnish platter with fresh basil and mint.